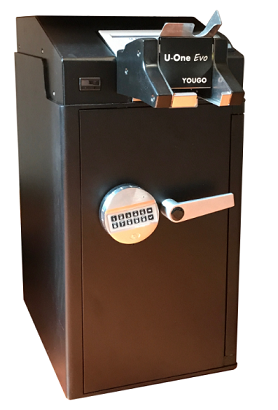 U-One EVO is an intelligent deposit system, banknotes are validated, counted and stored with 100% accuracy, in a heat-selead security tamper evident bag designed by YOUGO.

Evo is the newborn of the U-One family and boasts a wide range of great innovations:
First, we have introduced the FEEDER to improve the speed of the process and to allow cashiers to put in banknotes and then forget them!
Secondly, we have enhanced the capacity of the heat-sealed tamper evident bags designed by YOUGO.
Lastly, U-One EVO has been designed to match perfectly the requested of Retailers that ask for an ergonomic device able to be positioned everywhere.
The innovative software platform allows the real time remote control of every transaction & event, by standard browser
Retail Cashpoint POS 

U-One EVO helps the cashier in the validation of banknotes, avoids mistakes during the counting, recognizes and rejects fake banknotes. U-One EVO is able to work in stand alone mode. It's more secure for the cashier: in case of attempted robbery the safe could be open only by a secur key (the safe could be also equipped with Inksecurity system inside). Reduces or even eliminates trading interruption to perform manual skims. Cashiers now are able to dedicate their time to activities customers oriented that maximise revenues. The tamper-proof bag can be put in 24h safe and withdrawn directly from the CIT.
Retail Backoffice

U-One EVO is a smartsafe with which cashiers validate, count and deposit banknotes receiving a receipt of the operation. At the same time, the deposit is fully recorded and monitored. U-One Evo reduces time spent for counting banknotes and avoids the preparation of the deposit slip of banknotes, so cashiers can be engaged in activities focused on revenue maximization. If retailer has an agreement with CIT and Bank, maney can be credited on the bank account immediately whitout cash pickup which may also be weekly (by CIT or authorized person). Cash secure: before any opening of the safe, the tamper-proof envelope – identified by a unique barcode – is sealed.
U-One EVO is divided into two parts, Top and Safe, the Top valid and counts the banknotes, which when they pass in the safe change ownership: only those authorized can open the safe and take the sealed bag. In case of a jam caused by improper insertion, cashiers can easily intervene and remove the jam, all out of the Safe.
Top
YOUGO Validator:
1-2 b/s
Verify
Reject banknotes doubtful (ECB Legislation).
Currencies: EUR, CHF, MXN, YGO, (USD, GBP in development)
Feeder: Bundle 25 banknotes // 1-2 b/s
Display: 4.3″ touchscreen display that can be used as a mini console in offline applications: user identification, counting, deposit, opening and closing safe
Connection: USB – Opt. LAN/WIFI // GPRS
Power supply: internal
Thermal receipt printer: integrated
Barcode reader: integrated
Safe
Storage system: semi-stacked in a heat-sealed tamper evident bag designed by YOUGO

Closing and Sealing bag system: the system automatically seals (heating it) the bag before the opening of the safe. Designed by YOUGO

Bag capacity:3200* banknotes (opt. 2000*)

Safe: SB 6 mm, electric opening and closing, mechanical key lock

Ink system: in development

Dimensions/Weight 3200: 685 x 635 x 350mm (H x D x W) / 83kg

Dimensions/Weight 2000: 580 x 635 x 350mm (H x D x W) / 70Kg
* guaranteed for Euro flat & fit