Automate the cash supply chain
Reduce operational, transportation and holding expenses, increase staff productivity and improve vendor management
Gain enterprise control and reduce risks
Centralize control, improve risk protection and gain visibility using advanced technologies and business intelligence
Delight your
costumers
Optimize currency levels for higher availability and quicker transaction across the enterprise
Reinvigorate your branch
Streamline and automate activities to reduce expenses and elevate costumer service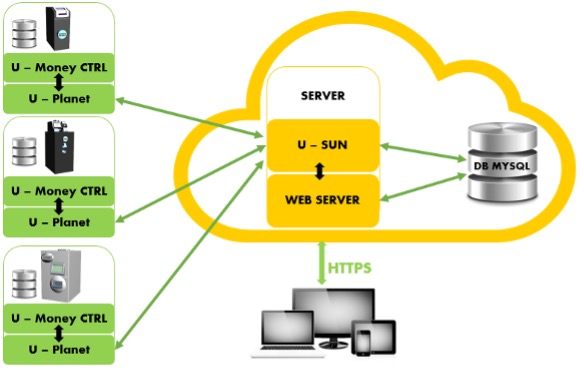 U-MoneyCtrl is the Software Platform of the "Camaleonte Solutions" designed by YOUGO that makes easy and functional the integration and the management of cash handling systems and through which we are able to adapt ourselves to the existing cash handling portal.
Our platform is a cash management tool, cloud based, through which our smart safe send to the cloud the data of all transactions and all the events occurred, and through which they receive information from the external environment (for example: updates for software and firmware).
Our architecture allows also easy and secure access to data on the cloud, anytime, from anywhere, using any device (laptop, smartphone, tablet or PC).
U-MoneyCtrl realize the Internet of Things on Cash Handling Devices by YOUGO