Transform the Money in Digital Cash
Yougo Retail Cash Management_1
Yougo Retail Store Manager_6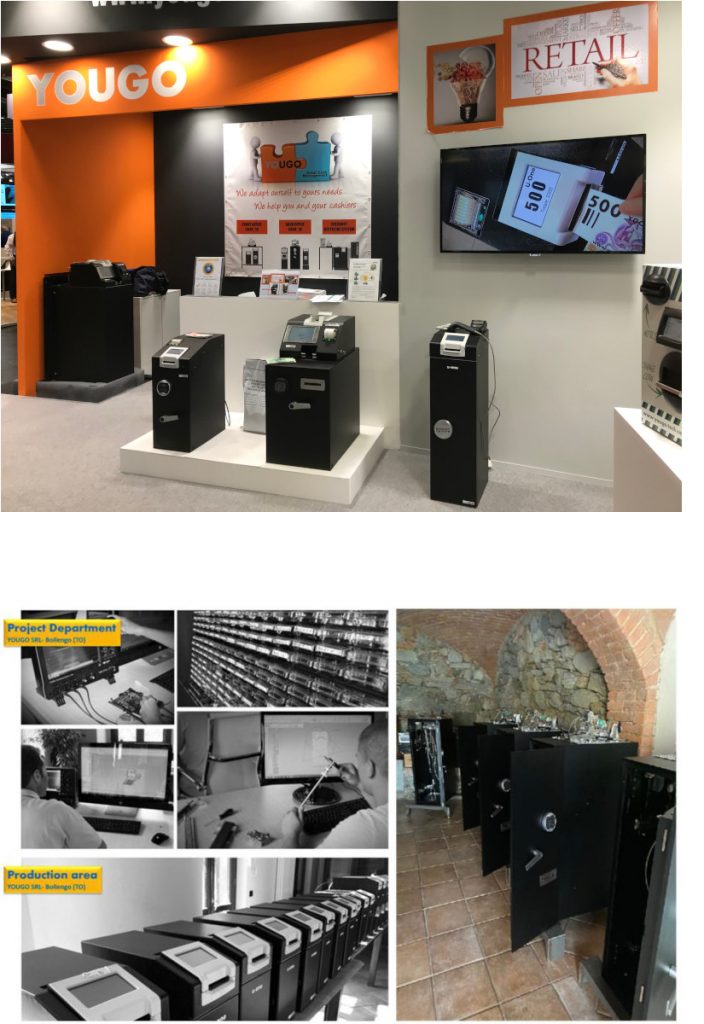 Who we are





We are an innovative company,
founded in 2014 by the Ugo family (Franco, Mario and Patrizia).
We have the ambitious goal of relaunching the concept of Made in Italy innovation applied to the technological automation process in the retail market for cash management.
Our founder Franco Ugo was the founder and entrepreneur of the CTS Electronics Group, a world leader in technological innovation applied to the payments automation in the Banking and Retail market.
Today we are able to provide to the Retail market a wide range of customized products / solutions, innovative and intelligent, designed for customers with customers.
Our goal is to provide not only a tool, but a real RetailStore Assistant able to help and secure retailers, cashiers, customers at the Point of Sale.
Our flagship product is the Smart Safe range. Entirely designed and produced in Yougo thanks to the important asset of know-how in Mechatronics and Artificial Intelligence (AI) of the Yougo team.
Our Goals
We understand your needs and turn them into excellent solutions
Made in
Italy
YOUGO was founded in December 2014 with in mind the Italian entrepreneurial pride, to relaunch the concept of Made in Italy – excellence technology – applied to the Retail Technological Automation to help and secure retailers, cashiers, customers at the Point of Sale.
Customization & Integration
YOUGO systems are modular solutions made by hardware & software that boast total customization and integrability; Yougo systems can be used in any Point of Sale and with any existing platform.
Security
& Reliability
We guarantee high standards of security with cash flow efficiency. Overall the store's cash management procedures are significantly improved. All our devices are equipped with the innovative heat-sealed bag stacking system, designed by YOUGO.
IoT
Internet of Things
Our software platform is a cloud-based cash management tool, through which our smart safes send data relating to all transactions & events to the cloud and through which they receive information from the external environment (eg. sw & fw).
---
Head Office
STRADA ALBARETO 11
10012 BOLLENGO (TO)
ITALIA
Telephone
+39 0125 676 364