HIGH CAPACITY CASH-IN  –  FAST  –  BUNDLE  –  COMPACT  –  SECURE
U-BUNDLE 12.000 FF is an innovative and advanced cash-in solution able to guarantee security and huge benefit on cash management efficiency for Retailers.
U-BUNDLE 12.000 FF is an ideal product to perform in markets with heavy usage of banknotes in a challenging environments.
U-BUNDLE 12.000 FF comes with specific features like a reinforced safe – easy jam note recovery system together with a fast – reliable – heavy duty – high capacity performance.
U-BUNDLE 12.000 FF is extremely fast by a continuous bundle note (5-6 bn/s) validator and capable to store up to 12.000 banknotes in a security bag with heat-sealed system.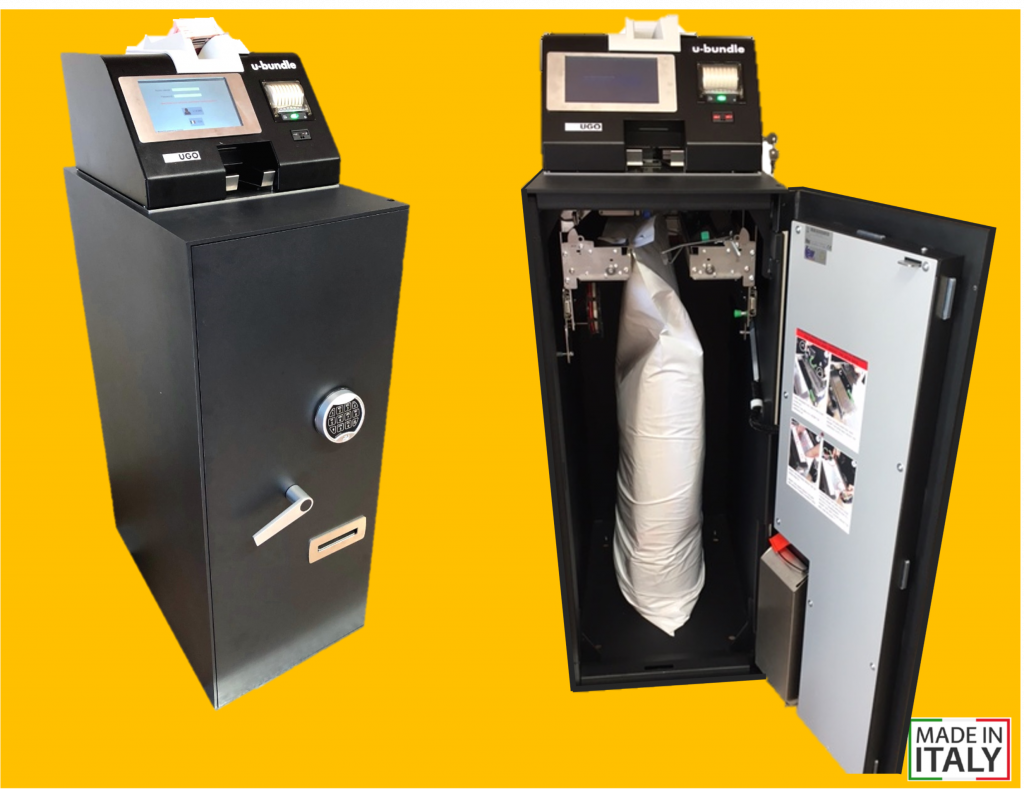 Yougo introduces U-Bundle 12.000 FF that combines Yougo best technology in speed, ergonomics and strength thanks the proven Yougo bundle deposit system . It's a specific solution for markets with heavy usage of notes in a challenging environments. The U-BUNDLE 12.000 FF has been design to be installed where the space is still little but the needs is to store large quantity of cash in retail store up to 12.000 banknotes. Friendly approach & easy to use are the big plus for the user.
The safe is a strong box 6 mm with reinforced door 12mm or CENIII complies with CIT international requirements.
U-BUNDLE 12.000 FF like all Yougo's Cash-In is equipped with a Validator ECB certified – design by Yougo.
U-BUNDLE 12.000 FF comes from the U-BUNDLE series that has been successful sold in thousands of units in the world.
U-BUNDLE 12.000 FF – Specifications
Validator
Speed
Note validation function
Multi currency deposit
Yougo – ECB certified – BUNDLE entry 5-6 banknotes/sec
Yes, with reject of doubtful banknotes (ECB) in reject slot
Yes (optional)
Certified currencies
EUR, USD, MXN, CHF others on requests
Display
7.0" touchscreen with online remote and offline functioning
Software platform
U-Money-Control "OnBoard" with Multi-Language
PC
Win 10 IoT
Remote management system(optional)
Updates
Yes, remoting management by Yougo's Camaleonte platform
Software, Firmware, Template, data import and export.
Thermal printer
Integrated with 57mm paper roll
Bar code reader
Integrated
Banknotes deposit system
Free Fall Yougo's system in heat-sealed anti manumission bag. Designed by Yougo
Maximum deposit capacity
12.000 banknotes* * Tested with Euro currency
Bag Sealing System Option
Heat Sealing system by Yougo Ionizer system for polymer banknotes
Lock
Electric lock with security code, programmable for joint opening
Safe
Option 1 Option 2
Reinforced Strong Box 6mm and door 12mm
Slot on the front door for envelop with anti-fishing system CEN III
Connection
Option
LAN
GSM with integrated antenna
Machine certification
CE, ROHS
Yougo's validator certifications
ECB
Voltage
Nominal frequency
AC 100V-240V
50/60Hz
Dimension Weight
396mm x 1250mm x 616mm (W X H X L) 170 Kg
Conditions of use
Humidity
15-32°C (60°F a 90°F) Storage: -5°C / +70°C (23°F / 158 °F) 20% a 80% no-condensate

U_GO SECURITY BOX is the innovative and exclusive security system develop by Yougo. The security system is available for all Yougo products and it's smartly integrated to obtain top-security in data trasmission protection and to phisycally protect the system (optional).
U_GO SECURITY BOX characteristics:
Anti-Tampering Report and Real-Time Alert due intrusion
PC – HardDisk Encryption with TPM
Data communication through Yougo portal protected with MD5 cryptography
Modem GPRS and System Sensors Network for Real-Time Alert in case of system intrusion.
Rechargeable battery to keep alive the system in case of power off to continue the data communicate with portal for long time.
Strong metal box with inside U_GO SECURITY BOX to have top protection and security from intrusion